Cultural Champions Visit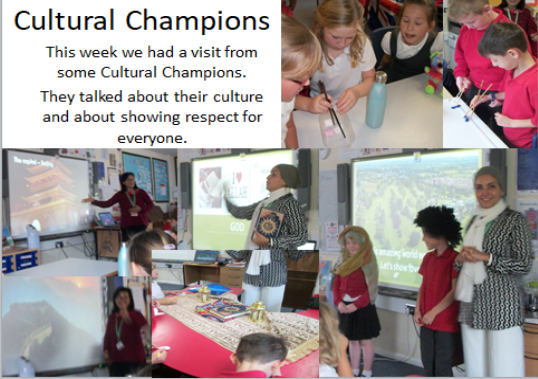 Here are some recounts of our Cultural Champion visits:
Child 1: Today, we had people come in called Mona and Esther (I'm writing about Esther!). In class she showed us about how her country, China, was the first to make fireworks, gun powder and printing. She gave us marshmallows but… (Wait 1 minute) she made us use chopsticks! (It was good practise but I found it hard) but it was worth it.
Child 2: On the 7th October, we had a visitor called Mona. She was from Saudi Arabia. She made us write hearts with the things we love. I wrote my friends, my dog, God, my family and Ed Sheeran. She read the Koran in Arabic and then translated it into English. Elliott and Mia wore wigs and Mona taught us that we can think of nice and bad things to say but we choose what we actually say.