Flotsam by SB Class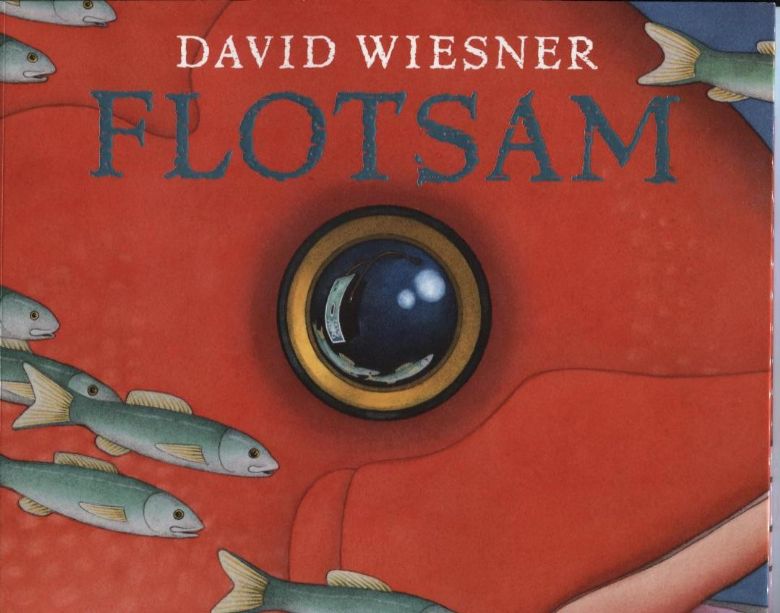 The children received a letter from David Wiesner, asking for their help to add the writing to his picture book as his author was on strike. The children and Mr Baker's class agreed to help and this is our shared story. Each of us wrote part of the story to create the book. We hope you can see all of the work we did to improve our word choices and make it interesting. Enjoy!
As Cameron gazed through his magnifying glass at the playful crab, beside him was a gigantic sand palace with windows and a door.
Because he was bored, he decided to find some red crabs. Eventually he found one. He was lucky he didn't get pinched by the crab.
When enthusiastic Cameron looked closely at the scarlet crab, the crab stared back at him. Then Cameron gently picked up the crab. He decided to put the crab down after a minute and set it free.
Curious Cameron was too focussed on the hermit crab. He didn't realise that something was about to happen. Unexpectedly, a powerful, towering and froth hopping wave engulfed him.
As the bewildered boy panted desperately for air, behind him lay his king-size bucket and spade with seaweed tangled around the sandy handle.
The bewildered Cameron sat down, as still as a stone, on the soft sand. Cameron's broken spade and bucket lay on one side of him. Slowly, he got up and wiped the slime green tangled seaweed off him.
He picked up the mysterious box from the water. Curious Cameron found the Camera that was engulfed in seaweed. He examined the magical underwater camera that had a shimmering octopus on the front. Barnacles surrounded the camera and a large leather buckle wrapped around it.
Cameron sprinted to his parents and showed them the mysterious box. They ran to the lifeguard. He said open it. Slowly, Cameron opened it and found a small tube.
Cameron ran in excitement in the soft sand on the smooth road and he was there at the one hour photo shop. He waited and waited and waited.
Cameron examined the strange photo and he was shocked. After he saw the picture, he ran from the beach.
He was staring into his microscope. Cameron was looking through the pictures. Cameron was excited because he wanted a picture like that.
As he went to sit down on the sparkly sand, he started to look at the photo. He saw a girl holding the photo.
While he smiled softly, he intelligently used his spade to take a picture. As he took the picture, a colossal wave tumbled behind him.
Cameron thought of all the pictures, he threw the camera back into the ocean for someone else to discover.
Gently kneeling on the beach as the waves swayed past, the inquisitive girl tried to reach for the sea-swept camera.