Geography
At Hayward's, we encourage the children to develop a strong interest of their own surroundings as well as those of diverse places and the wider world. Our Geography lessons equip children with the understanding of the relationships that exist between humans and their ever-changing environment.
Our intent
Our Geography curriculum is designed to develop children's curiosity and fascination about the world and its people that will remain with them for the rest of their lives. We want our children to pursue a line of enquiry to answer a relevant and engaging geographical question.
We are committed to providing children with opportunities to investigate and make enquiries about their local area of Crediton and Devon so that they can develop of real sense of who they are, their heritage and what makes our local area unique and special.
Geography is, by nature, an investigative subject, which develops an understanding of concepts, knowledge and skills. At Haywards, through first hand experiences we want our children to develop a greater understanding and knowledge of the world, as well as their place in it.
We want the children to apply geographical skills and be able to analyse and interpret primary and secondary sources. We want our children to master key geographical concepts and be able to generalise and discuss abstract ideas.
We seek to promote the children's interest and understanding of diverse places, people, resources and natural and human environments, together with a deep understanding of the Earth's key physical and human processes.
The curriculum is designed develop knowledge and skills that are progressive, as well as transferable, throughout their time at Hayward's Primary and also to their further education and beyond.
GEOGRAPHY TEACHING AT HAYWARD'S:
Fieldwork
Year 1 and 2 Fieldwork studying a local river

The children began by mapping a route from school to the river. When they arrived, they made observations using everyday language to describe features of the river and then drew a field sketch of the simple feature they observed. Back in the classroom the children labelled pictures of the river's features.
Year 3 and 4 Fieldwork at Charmouth beach on the Jurassic coast

The children made observations on how the coast was changing over time. They took photographs using a camera and then located the photo on a map. Their final task was to field sketch a physical feature of the coast; most children chose the 'golden cap' at the top of the cliff.
Year 3 and 4 Fieldwork at a local river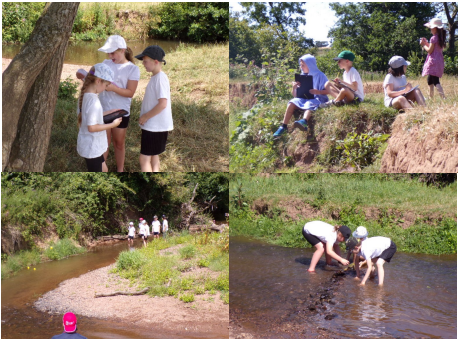 As part of our 'Water, water everywhere' topic, we visited the River Yeo where we built dams, completed a photography scavenger hunt, spent some time sketching and measured the speed of the river using rubber ducks. We enjoyed a picnic in the sunshine and also did our best to spot some features of the river we have been learning about. It was just as well we all remembered to bring spare shoes and a change of clothes because cooling off in the river was one of the highlights of the day!
Year 5 and 6 Fieldwork at locations around Crediton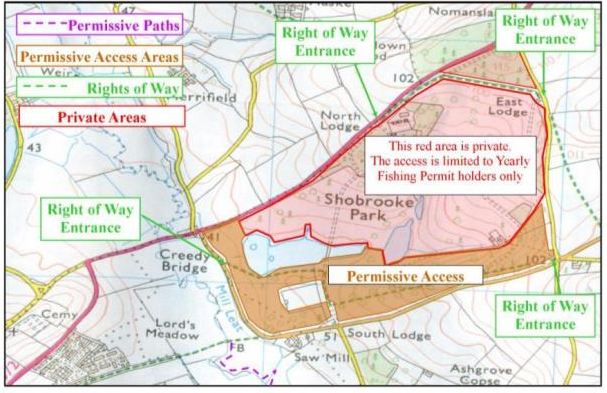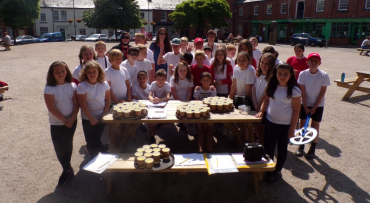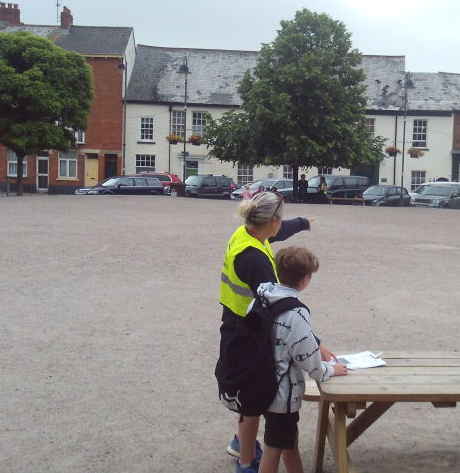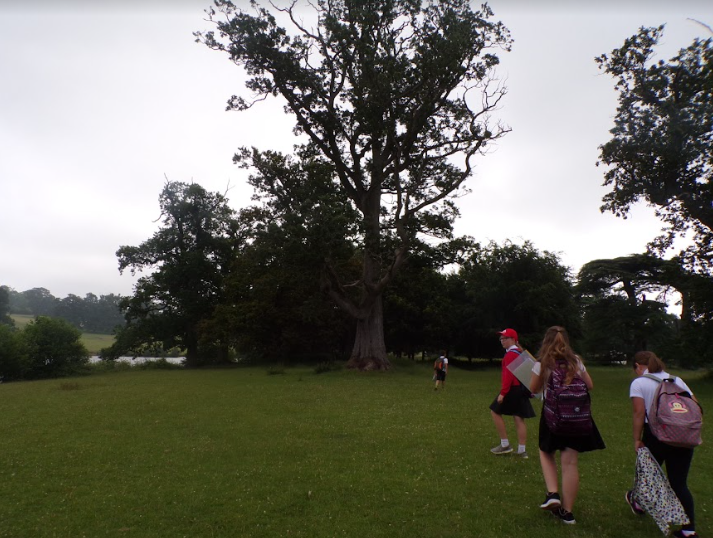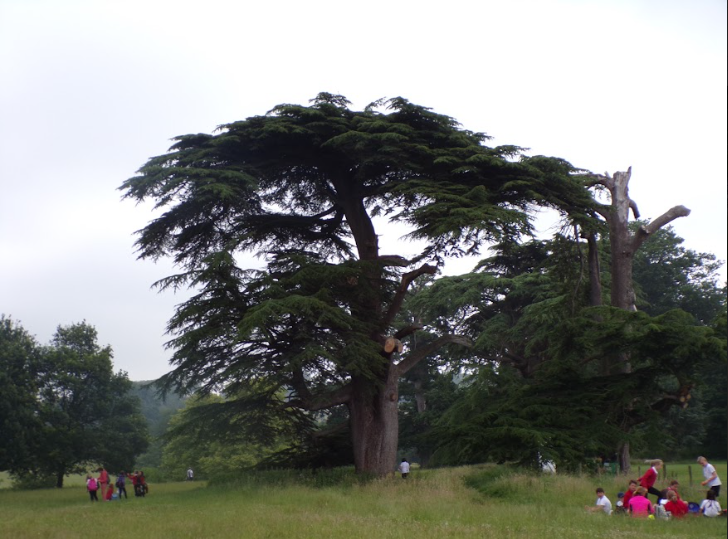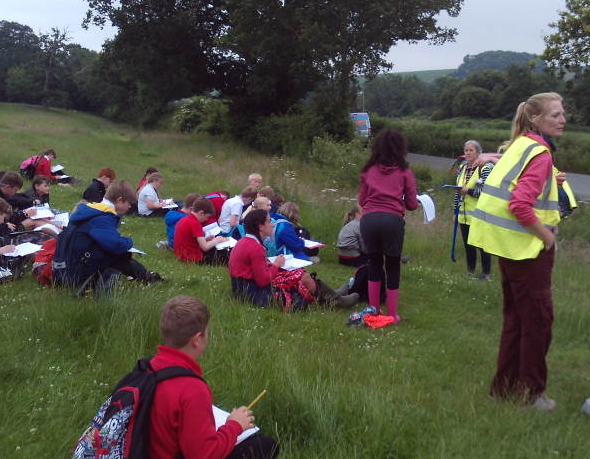 Year 5 and 6 were given the huge task of finding a suitable location to hold a music event. As students in Crediton, they assisted the production team by carrying out some research to find out which of two proposed locations would be the most suitable as a venue for the musical festival: The Town Square or Shobrooke Park.
The children had to consider the following:
· Which location will have the least impact on the geography of the area?
· How is the location accessible to all festival-goers?
· What facilities do each location offer (parking/toilets etc)?
After the research had been carried out, the children created a portfolio of evidence which included sketch maps, photographs, detailed drawings and measurements of the area.
Locational knowledge
By the end of Key stage 1, children will be able to name and locate the world's seven continents, five oceans and the four countries and capital cities of the UK.
By the end of Key stage 2, children will be able to locate countries and some major cities, using maps to focus on Europe and the Americas. Children will be able to identify the position of Equator, Northern Hemisphere and Southern Hemisphere, the lines of latitude and longitude, the Prime/Greenwich Meridian and the time zones.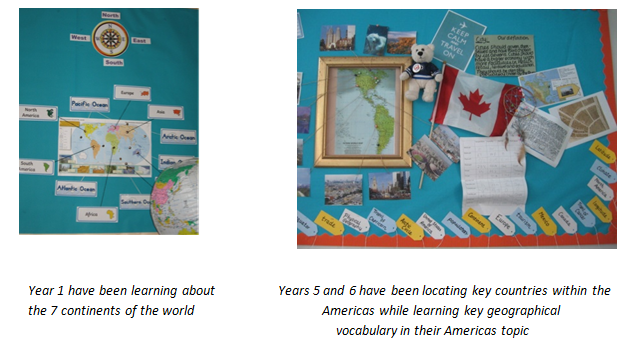 Place knowledge
By the end of Key stage 2, children will understand geographical similarities and differences through the study of different places and will be able to identify land-use patterns of those areas. Children will be able to identify topographical features such as hills, mountains, coasts and rivers and know how these have changed over time.
Human and Physical Geography
By the end of Key stage 1, children will identify seasonal and daily weather patterns in the UK and in hot and cold areas of the world (in relation to the Equator, the North pole and the South Pole).
By the end of Key stage 2, children will know the clear difference between physical and human geography. Through our human geography teaching, children will identify human features of a region of the UK, a European country and the Americas. Children will be able to describe and understand key aspects of human geography such as types of settlement, land use, economic activity, trade links and the distribution of natural resources: energy, food, minerals and water.
Through our physical geography teaching, children will identify physical features of a region of the UK, a European country and the Americas. Children will be able to describe and understand key aspects of physical geography such as the water cycle, rivers, climate zones, biomes, vegetation belts, mountains, volcanoes and earthquakes.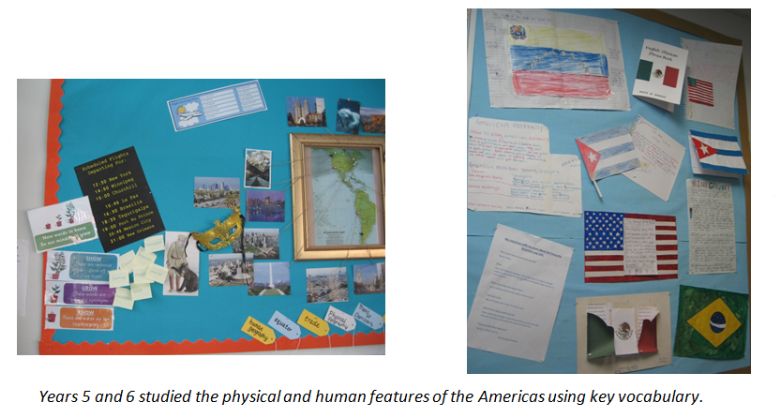 Skills
By the end of Key stage 1, children will be able to follow directions and communicate geographical information through a simple map. Children will be able to use real world maps, atlases and globes to identify the UK, other countries, continents and oceans.
By the end of Key stage 2, children will be able to use 8 compass points, 4 figure co-ordinates and 6 figure grid references to locate features on a map. Children will have opportunities to draw a variety of maps (thematic, sketch), using symbols and a key. Children will be able to follow routes on an OS map, describe its features and compare maps with aerial photographs. Children will also be able to measure straight line distance on a map and use a scale to measure distances.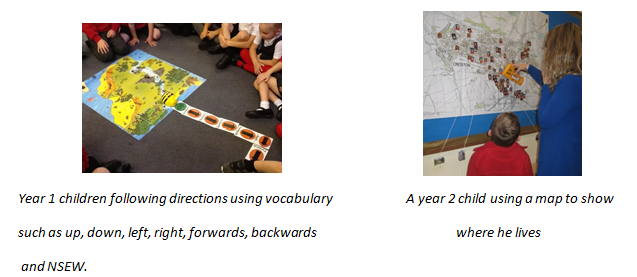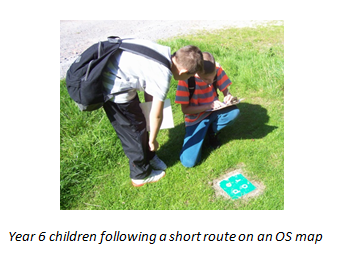 WIDER CURRICULUM INTENT:
Geography is taught through our Challenge Curriculum Topics (e.g. Great to be Britain).
'Earth, Wind and Fire, 'Location Location' and 'Bring it Home' are key areas where we can support the childrens' knowledge acquisition.