Parent Voice
Hello and welcome to YOUR page.
We at Hayward's value what you think. We want to hear your views on issues that matter to you and your child's life at school. We feel that it is important that you have a voice and we would like to give you the opportunity to contribute to the decisions that are made about your child's learning journey at school.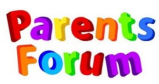 Mrs Greedy runs the Hayward's Parent Forum. This is an opportunity for you to come into school, meet with other parents, share ideas and feedback to us about issues that matter to you. Parent Forums are solution-focused and take place during and after school hours, once or twice a term, when there is a need for an issue to be discussed.
parentvoice@haywards.devon.sch.uk is an email address for you to send your comments and recommendations to Mrs Greedy. Here you can make positive suggestions as to how we can improve your child's learning experience at Hayward's. This is particularly helpful if you are unable to attend a Parent Forum and wish to voice your opinions in a solution-focused manner.
Many thanks for your on-going support.
NEXT PARENT FORUM:
TBC
TOPIC TO BE DISCUSSED:
TBC