Safeguarding
If you have any concerns about the safety and well-being of a child or any safeguarding issues that you would like to discuss, please contact the following people:
Our Designated Safeguarding Lead is Clare Bedford (Assistant Headteacher and Inclusion Lead)
Our Deputy Designated Safeguarding Lead is Andy Smith (Headteacher)
Other Staff trained to an appropriate level in Safeguarding are:
Ruth Dixon (Pastoral Lead)
Ben Geale (Pastoral Lead)
Kirsty Brett (Business Manager)
Louise Raychell (Family Support Worker)
Keeping children safe
The safety of children at Hayward's is of paramount importance to us. We are committed to ensuring that all members of our school community will thrive in a safe and happy learning environment.
Keeping your child safe means:
The health and safety of all children
Making sure that the adults who work here have undergone safety and security checks
Protecting children from deliberate harm
Being an anti-bullying school
Being proactive against racist behaviour
Being proactive against attempts to indoctrinate children in to any form of extremism
Protecting our children from harassment and discrimination
A positive approach to behaviour management including the safe use of physical intervention, when necessary
Meeting the needs of children with medical conditions
Providing first aid
Protecting children from drug and substance abuse
Children enjoying safe educational visits
Caring for children's personal needs
Keeping children safe when using the internet and making sure they are aware of cyber bullying.
Making sure our school is secure and safe
Being a 'listening school'.
Ensuring they know who to go in school if they have a problem
Hayward's has a designated child protection officer (Mrs Clare Bedford) and a deputy (Mr Andy Smith). They are both fully trained in current child protection practices and are responsible for child protection throughout the school. We also have three other members of staff trained to level 3 in safeguarding; Mrs Dixon (pastoral lead and former safeguarding lead), Mrs Brett (our business manager) and Mr Geale (pastoral lead).
Our school environment is regularly monitored to ensure the right balance between managed risk and safety. Through our PSHE programme, we teach the children about safety and how to recognise the "danger-signs" of feeling unsafe. We make sure that all children know and can talk about the people in school they can turn to if they feel unsafe. Our key policies can be downloaded below:
Who to contact if you have concerns about the welfare of a child:
Details about Devon's Multi-Agency Safeguarding Hub can be found on the link below:
https://www.dcfp.org.uk/keeping-children-safe/multi-agency-safeguarding-hub-in-devon/
If it's an emergency call 999
Operation Encompass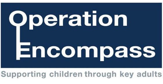 Operation Encompass Safeguarding Statement
Our school is part of Operation Encompass.
Operation Encompass is a national police and education early intervention safeguarding partnership which supports children and young people who experience Domestic Violence and Abuse and which is in place in every police force in England and Wales.
Children were recognised as victims of domestic abuse in their own right in the 2021 Domestic Abuse Act.
Operation Encompass means that the police will share information with our school about all police attended Domestic Abuse incidents which involve any of our children PRIOR to the start of the next school day.
Once a Key Adult (DSL) and their deputy/ies (DDSLs) have attended either an Operation Encompass briefing or completed the online Operation Encompass Key Adult training they will cascade the principles of Operation Encompass to all other school staff and Governors. All schools staff and Governors can undertake the online training.
Our DSL undertook training on:
Mrs Clare Bedford: January 2022 (Level 3 refresher training)
Our DDSLs undertook training on:
Mr Andy Smith: 8th October 2021
Mrs Ruth Dixon: 4th November 2021
Mrs Kirsty Brett: 14th October 2021
Mr Ben Geale: 14th October 2021
Our Safeguarding Governors undertook training on:
Mrs Sally Yeo: October 2021
Miss Di Evely: October 2021
Our parents are fully aware that we are an Operation Encompass school and we ensure that when a new child joins our school the parents/carers are informed about Operation Encompass.
The Operation Encompass information is stored in line with all other confidential safeguarding and child protection information.
As a staff we have discussed how we can support our children who are experiencing Domestic Violence and Abuse on a day-to-day basis and particularly following the Operation Encompass notification. We have used the Operation Encompass Handbooks to inform our thinking.
We are aware that we must do nothing that puts the child/ren or the non-abusing adult at risk.
The Safeguarding Governor will report on Operation Encompass in the termly report to Governors. All information is anonymised for these reports.
We have used the Operation Encompass Key Adult Responsibilities checklist to ensure that all appropriate actions have been taken by the school.
When Head Teacher, DSL or DDSLs leave the school and other staff are appointed, they will ensure that all Operation Encompass log in details are shared with the new Head Teacher /Key Adults and that the new member of staff will undertake the Operation Encompass online training.
Useful Safeguarding Links
https://www.dcfp.org.uk/keeping-children-safe/multi-agency-safeguarding-hub-in-devon/
https://www.childrenengland.org.uk/cap-uk-child-assault-prevention